When you think about Nuwara eliya first thing that come in to your mind is cold and traffic.
Yes that's the Nuwara eliya climate. But there are lot more romantic things about here. We all think about how to impress your partner at the honeymoon and we always do our best to make in memorable vacation at the end of the day. So here is why you should choose Nuwara eliya as your honeymoon destination.
The Climate at Nuwara eliya
As we already know that the climate at the Nuwara eliya area is having subtropical highland climate.
Nuwara eliya is the coldest in Sri Lanka and all over the year, this area having a cloudy season. However sometimes in winter seasons there can be very frosty at night and high mist in the day times too.
The temperature in there differ from Celsius 1 to 29.
How to visit?
If you travel by train from Colombo, you should get off from the train at Nanu Oya railway station. Nanu oya is the closest railway station to Nuwara eliya town. There are buses ready with the train time table to the town.
If you prefer private vehicle it may take about 5 to 6 hours from Colombo. (depending on the route you choose)
And also there are lot more places on the way to Nuwara eliya, like nine arches at the ella with ella rock and also the heritage city Kandy.
Boat Rides in Gregory Lake | A place for adventure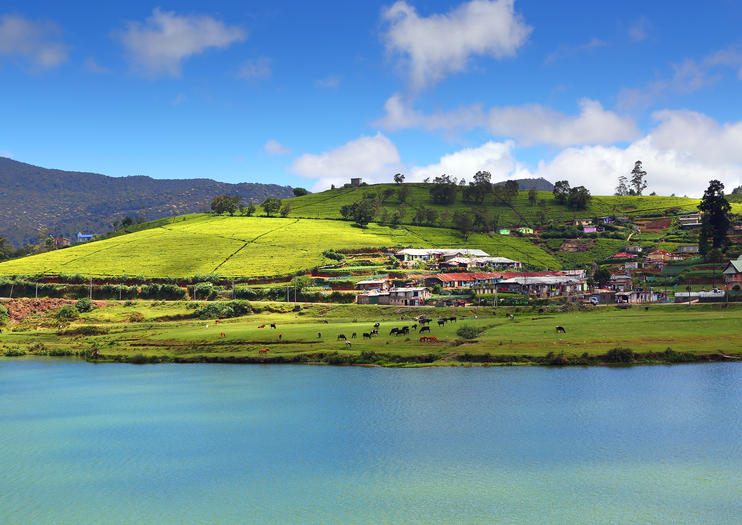 The boat ride in cold and misty day with your loving mate will be a memorable moment in your life. There are varieties of boats like boats for groups, swan boats for couples to speed boats. However it will be a big adventure in the misty evening.
Hakgala Botanical Garden
This is also a famous place among the travelers, one of the five botanical gardens in Sri Lanka. On the way in hilly and cold road to Badulla, at Hakgala you can find this paradise in here. There may be some traffic for parking but inside, the paths with roses and many flower species makes you remember the fairyland. However best seasons for visiting this botanical garden is March to May.
Moons Plains – Nuwara eliya
This place is located within few kilometers from the Nuwara eliya town on the seetha eliya road. The main attraction of the Moons Plains is the 360 view at the "Mini Worlds End". At the peak you can see many mountain ranges on a clear day. They are include piduruthalagala mountain range (highest peak of Sri Lanka), kirigalpoththa mountain range, Hakgala mountain, Namunukula mountain range and many more.
Horton Plains and worlds end
Horton plains is a protected and UNESCO declared world heritage which consists of large number of endemic fauna and flora species. This entire land is covered by montane grassland and cloud forest.
This area is popular among tourists because of this biodiverse eco system as well as the World's End and the waterfalls.
Horton plains park entrance is located 8 km from Ohiya and 32 km from Nuwara eliya.