Kandy Sri Lanka is the last kingdom of ancient king's era of Sri Lanka. The city is surrounded by the hills of the upcountry with giving a home to tea planation and biodiverse rainforest.
Kandy, is a town that every traveler give high priority in their travel journey in Sri Lanka, there are many amazing reasons to do so.
Kandy city is the heart of Buddhist which is the Temple of tooth relic of Gautama Buddha is located. So this city is a world heritage with the beautiful Bogambara Lake in the middle of the town.
How ever if you wish to visit Kandy by train, from there you can see many places in walking distance in the city, as well as it will be a great experience to see the city building's architecture of the colonial era of Sri Lanka
Sites of the heritage city Kandy.
There are many Historical Buddhist temples as well as Nature scenic places and gardens to visit in the city.
Temple of tooth relic
The relic of the tooth of Buddha is located in this place. This temple plays a huge role in Sri Lankan Buddhist culture. The temple of tooth relic is located in the middle of the Kandy city with beautiful Bogambara Lake lying aside.
The famous queen's hotel is also located in front of the temple.
However there is a dress code you should know before you entering the temple. Men and women should wear a dress which is covered your body. Women should wear dress that should longer than the knees. And also you have to remove your shoes before entering the temple. Don't worry there is a secure place to keep your shoes safely.
There are also some devala in the area around kandy city. Katharagama devale, Wishnu devale, Paththini devale, Natha devale to visit. The architecture of these buildings also belong to King's era in Sri Lanka and one should see the beauty of these places.
Royal Botanical Garden
Royal Botanical Garden is situated in Peradeniya, about 5 km away from Kandy city with eye catching environment with Sri Lanka's second oldest university nearby. Earlier times this garden was reserved only for Kandyan Royals only. But today every ones locals and foreigners are allowed to visit and enjoy the most beautiful and largest botanical garden in Sri Lanka which is about 60 hectares.
There are about 4000 species of plants including orchids, medicinal plants and spices as well as many types of palm trees.
You can visit the botanical garden from Kandy, by bus or by tuk tuk and get off from the Galaha Junction.
Udawattekele Sanctuary
Udawattekele Sanctuary is best known for birds watching. This small forest is full of hard wood and located from a walking distance from Kandy city. However you are feel free to take a guide with you. There are small paths to walk and some paths are slippery.
There are many indigenous plant species you can see in the forest.
Kandy View Point (Arthur's Seat)
This is another wonderful place where you can view the whole city from the above. Which is situated on the way to hanthana mountain range. The Sacred temple of tooth relic long with the Bogambara Lake gives a marvelous view from the above. Many are used to visit there at the evening to site this view.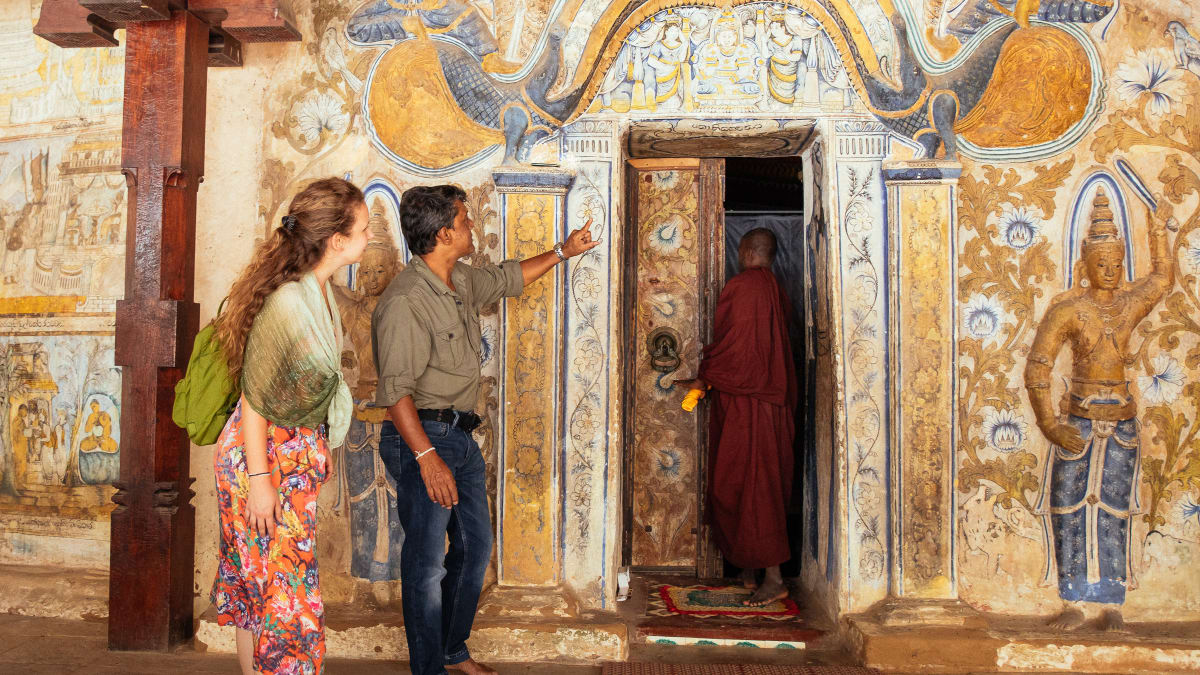 There are so many other places to watch within the area of Kandy city. however anyone should have a day of two travel experience in this city and it will be your best days in Sri Lanka.